Empower Mobile Workforce to be Results Driven
Feb132017
Does your field service operation have a 92% success rate when it comes to meeting response times per service level agreements (SLAs)? According to this report only the top performers in the industry are meeting that number, which means there are a lot who aren't fulfilling their SLAs. That puts consumer service companies in a tough spot. The industry as a whole is getting more and more competitive every year as new companies join the market place and customers' price sensitivity increases along with their expectations. As mentioned in a previous article on real-time driver reporting GPS tracking and location visualization are giving companies a way to keep up with customer expectations. But, of course, the inclusion of this tool into your fleet is only the first step toward remaining competitive nowadays. Getting an edge involves moving beyond location technology. The next evolution of GPS comes in the form of the insight one can gleam from all that data. Information just isn't worth anything if it isn't actionable.

With the right tools delivering actionable data it becomes possible to improve the efficiency of daily routing, planning, and scheduling. This has a two-fold benefit. The first part is concerned with preserving the business's current success in the market, sustaining its customer base by meeting SLAs while also minimizing operational costs. The second is concerned with planning for future demand. Foresight into how resources, be it personnel, equipment, or all the above, are going to be taxed in the future is critical to getting the right technician, with the right solution for the right customer, all at the right time.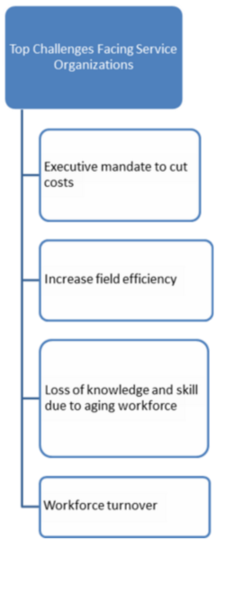 But improving forecasting and planning for future service demand is really only going to come once the major hurdles faced in daily operations are overcome. Moving past the major challenges, namely, cutting costs, increasing field efficiency, compensating for your aging workforce, and a high turnover rate, necessarily comes first. Some questions: if you manage a mobile workforce, are you often dealing with frustrated workers who spend most of their day driving and not servicing customers? Are they passing other company vehicles going the opposite way all the time? Are they filling up your voicemail and inbox with complaints about going out on service calls where the issue they've been sent to address requires a different skillset, different tools, or help from other technicians who were assigned elsewhere at the time? Are they quitting because of too many times going it alone, without what they needed to really get the job done and are tired of dealing with angry customers? This is poor planning, and the scenarios described are all contributing to the top business challenges currently being faced out there.

Getting the best of the planning conundrum means getting the best of permutations on top of permutations. Good luck! Companies that service multiple clients (that regularly change) multiple times a day in multiple locations are hard pressed to ever make sense of it, let alone align daily operations with year-end economic, or business goals. However, technology does exist to not only create geographically defined service areas for techs with different experience levels, customers with different demands, SLA defined time windows and other constraints, but the ability to compare the costs of various what-if scenarios and see the impact on a business's profitability.
Properly aligning customers and field service crews, along with cutting down windshield time improves worker morale and slows employee churn, or even stops it completely. But this can't be accomplished without the ability to track and measure individual activities. And that ability isn't going to be worth much if what's reported on isn't set against the right business goals. Being able to audit different metrics, like percentages relating to the fulfillment of SLAs means not just having the technology available to help optimize daily routing, planning, and scheduling, but to analyze the results. With this you can empower your field workers. Technicians are not commodities that are replaced with ease and with little expense. Hanging on to them needs to be a core business principle. Otherwise, there's no chance in hell of meeting that 92% success rate.

Continue Reading