Fix It Right The First Time
Sep182014
You've heard it over and over again, "The customer is always right." And when your business model is selling services where field employees interact one-on-one with customers' daily, customer service and those relationships are vital to growing your bottom line. It's a no brainer - keeping your customers happy equates to more dollars in your pocket, and a happier, more profitable business all around.

One of the key impacts to any field service organization's overall success is their first-time-fix rate. According to Aberdeen's 2013 Field Service research, 17% of organizations do not measure or are not even aware of their first-time-fix rate. On average, 25% of all service calls require at least one additional visit to resolve customer issues. While you may be thinking that number is reasonably low, when you calculate the cost of the average service visit at $200-$300, the statistic doesn't look so great anymore.
So where are employees going wrong during these visits that are requiring a second, or even a third visit? According to Aberdeen, 51% of respondents stated that the most common reason an issue was not resolved on the first visit was simply not having the correct service part. The result of an unresolved visit ultimately impacts metrics for customer satisfaction and loyalty.
So what can be done and how will a higher first-time fix rate impact your organization? The obvious one is revenue will climb. Since revenue growth is greatly attributed to sales and renewal of service contracts, failure to resolve the issue the first time diminishes the likelihood of a returning customer. Productivity is another metric that will increase. With 45% of organizations stating that increased productivity is among their top service goals, this one area of your business plays a key role.
The Aberdeen Group suggests these steps toward a more productive and profitable company:
1. Better diagnosis at the dispatch/initial call level
2. Improved field-based access to parts (including mobile access to inventory)
3. More intelligent scheduling (based on technician skills and customer time preferences)
4. Improved training (on-the job training or the use of specialized tools)
In the end, the difference between a good business and a great business is 25% of service calls requiring an additional visit, which can be brought down with preparation, planning, and mobi.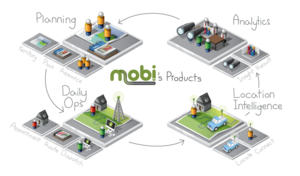 Incorporating mobi's suite of products, each of these strategies can be tackled with ease. Using mobi.Appointment, the suggest-and-assist feature schedules the right technician to the right job, based on time availability and technician skills. With mobi.Connect, streamline operations by keeping field technicians up-to-date on customer history, inventory, and job status, updated in real-time across all devices. mobi.Dispatch gives you visual insight into who's on-time and who's running late. Notify customers of expected arrival times or unexpected delays.
Each of mobi's modular products seamlessly connect to your existing applications, giving you the ability to select applications that support your specific business needs and goals. All installed with seamless plug-and-play integration, mobi's suite of products work together to bring you the maximum benefit that will take your business to the next level. Straighten out your business (and your first-time fix rate) with mobi.
To see how much money mobi could be saving for you, check out our ROI calculator. For information on mobi's field service solutions and analytics, please visit http://www.mobicorp.com/ or contact your local representative.

Continue Reading