The American Dream Is Closer Than You Think
Apr282014
The "American Dream" just got a whole lot closer to reality: meet Joe the Plumber.  Joe is the star of mobi's new feature short, The American Dream.  Our team here at mobi has been hard at work over the last several months, writing, editing and creating this new animated short to bring to life what mobi is all about.  Located deep in the heart of Texas, in none other than the capitol city of Austin, we follow Joe's story as he utilizes mobi's planning, location, and analytic software solutions to grow his company from a small business into a thriving enterprise.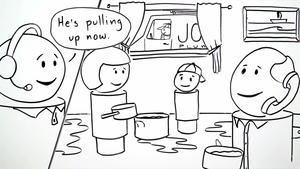 It's easy to see how mobi's solutions streamline Joe's day, from planning employee schedules to finding cost efficient routes, so Joe can focus on what's really important like building his company.  With mobi, Joe is also able to easily adjust for unplanned changes, know where is his team is at any time, as well as evaluate business and employee performance.  Not only is mobi saving Joe time, but also ensures his operational decisions are cost-effective.
Here at mobi, we like to keep things as simple and down to earth as Austin itself.  Let mobi help you straighten out your business (and your life), to bring you a peace of mind and to take your company to the next level.  If you haven't already, pay Joe a visit and see how mobi's location-based solutions has given Joe the balance he was looking for (and we're not just talking about his bank account).  Then check out our ROI calculator to put into perspective exactly how much you could be saving with mobi.
Give mobi a call today at 1-877-943-9433.  You have got nothing to lose, except maybe the American Dream.
Continue Reading