Planning for Productivity and Profit
Sep272013
When your field technicians head out to work each morning, are they offered alternative routes or do they take the same route every day?  There are many paths to get from point A to point B, but what if there was a route you could take every day that could save you 1/3 of your travel distance?
Businesses face multiple challenges every day with high volumes of customer orders to prioritize and organize, employees to manage, increasing fuel costs, fitted time windows, traffic conditions, and changing road closures. Combining all of these circumstances represents a considerable obstacle to the efficient running of your field service. To be more profitable, it is necessary to optimize your route planning strategy. The outcome results in better efficiency and reduced costs for you, while delivering better service to your clients.
Over time, innovations in technology have advanced routing software to become highly developed in calculating the greatest route for service and delivery companies with the maximum economic gain. Compared with a conventional map from twenty years ago, route planning software enables you to quickly determine how to get from point A to B and save money in seconds.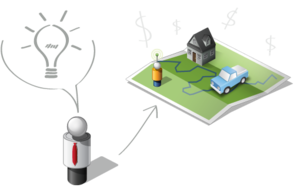 Daily and multi-day route planning gets more jobs completed per day versus a job randomly driven to various points within a day. By cutting down on miles driven, you can save on fuel costs, use fewer employees, and prevent wear and tear on your vehicles. You not only save more money, but you provider greener field service. Plus, business owners can make confident business decisions while having the satisfaction and accountability at their fingertips to know they are operating efficiently.
Planning for potential changes in the future and for the unexpected has never been so simple. By creating and developing routes using data, we decrease daily route time to focus solemnly on strategy. These are the many benefits and advantages gained from planning solutions.
We can all agree that taking the wrong path can not only cost us more money in the long run, but it can also cause us to re-plan our entire task. What if you could predict costs based on how you want to run your daily operations as a business?  Maybe you want the lowest cost per visit. Or maybe you want to reduce costs based on technicians over a specific time period. mobi's technology calculates the economic impacts before you make them.
The goal is clear: advance routing software can reduce operating costs while saving you time, money, and effort. You make your customers happy with more efficient and prompt deliveries with fewer delays. Operating an efficient fleet that meets customer service expectations begins with proper planning. With advanced route optimization, you can work smarter, not harder.
Continue Reading