How to use GPS Software to Improve Customer Service
Nov142013
When most people talk about GPS fleet tracking, they focus on the cost benefits that it provides for the fleet itself.  While all very important, it can be argued that reducing driving, speeding, and off hours vehicle usage should not be the focal points for an operations team.  What about using GPS software to improve customer service?
According to Aberdeen's research in State of Service Management: Outlook for 2013, it was found that organizations that reached a 90%+ customer satisfaction rate achieved an annual 6.1% growth in service revenue, 3.7% growth in overall revenue, and an 89% level of customer retention.  This shows that focus on customer satisfaction could lead to a greater increase to the bottom line than a focus on reducing fleet costs.  Fortunately for business owners, GPS tracking software allows the operations team to focus on improving customer service, while enabling the fleet management team to focus on increasing employee efficiency and decreasing vehicle costs at the same time.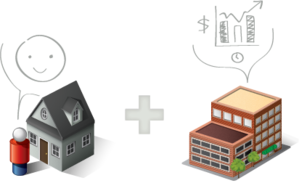 In Aberdeen's Secrets to Optimize Field Service for Better Customer Experiences, Aly Pinder states that "the Best-in-Class [service organizations] have also prioritized shortening the response time in order to ensure that the right technician gets in front of the customer as quickly as possible with the end result of issue resolution."  With GPS tracking software, dispatchers can achieve the goal of shortening the response time to a same-day customer service request by knowing the precise location of field techs in real-time.  A dispatcher can simply enter the address of the customer and be presented with the list of the closest drivers to that technician, to make the informed decision of who to send to the customer.
Thus far we have focused on how GPS tracking can improve customer satisfaction when used on the day of service.  It also provides a wealth of information to allow operations managers to ensure drivers are doing everything they can to provide a great customer experience.  The precise location and duration of every stop a driver makes can be reviewed to verify that they are spending enough time at the customer's site for a great experience.  Finally, the arrival time of all stops are tracked and can be compared to the time window that was promised to the customer, to verify that the driver arrived on-time.
When evaluating the benefits of GPS tracking software, don't forget to take into account the importance of increasing customer satisfaction.
Continue Reading